During the last few days i changed a lot, and today i'll show you the results. First of all, the GDI-Based Rendering does some sort of DownSampling which allows smoother Graphics. This is implemented by scaling the image by 2, 4 or 8(default) and stretchdrawing it back to it's original size. You can change the global default for Downsampling by using the corresponding class methods. Here is an example on how it looks: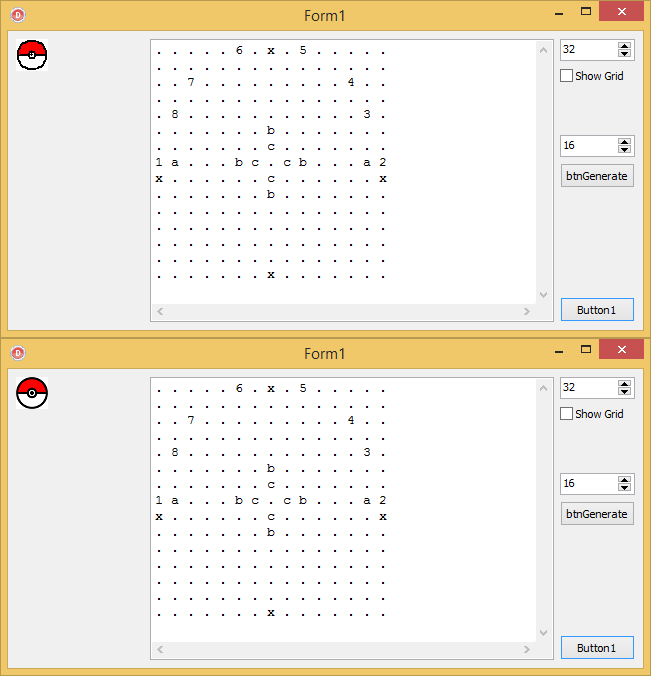 The AsciiImage has a native resolution of 16 and is rendered to a target with a resolution of 32. The second one with downsampling looks a lot better, doesn't it?
For the VCL implementation, there is a new DesignTimePackage, which allows you to use it in a TImage at DesignTime. The image is loaded at nativeresolution. Set Stretch to True in TImage for an upscaled version. It'll register *.aimg and *.AsciiImage.  The current structure is just a simple textfile, but the format is subject to change in the future.
Did i say VCL-Implementation before? Yes, and that means, there is a FireMonkey-Implementation, too! For you nothing changes, except, that you can use the AsciiImage-Unit in VCL and FireMonkey. A corresponding RenderContext is created automatically.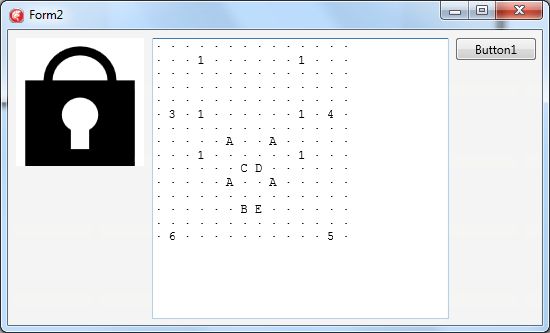 I did the implementation in XE6 and hope i haven't broken compatibility with XE. Still need to get my hands on an up to date version of Delphi. Another problem is, i don't have a Mac. But i do have an Android, but no mobile-addon. So everything was tested on windows-only. From what i can see, there are no windows-dependencies in the Firemonkey-Version. Feedback is welcome, to get that thing working if you encounter problems.
Another new addition is the possibility to alter/hook creation of a RenderContext. There are multiple Possibilities:
set a hook with a call to the classfunction TRenderContextFactory.SetHookCreateDefaultRenderContext. This will replace the DefaultCreation for all TAsciiImages.

Suitable if you want to replace the RenderContext with an own implementation

set OnCreateRenderContext of your TAsciiImage instance, to override handling for this specific instance

Suitable if you need a specific RenderContext for a specific instance